Tanoor is a family owned and operated authentic Lebanese restaurant in Sammamish and Seattle. The owners (the Fayed family) moved to Sammamish in 2001 where we raised our 4 children. We always loved cooking and entertaining guests. Our guests kept asking us, "When are you going to open a Lebanese restaurant?" We finally decided to take the plunge and open tanoor. Our goal was to open a full-service restaurant with authentic Lebanese food, which was also Halal and celiac friendly. Our family has a history of Celiac disease, and it was always a challenge for us to find safe and celiac-friendly restaurants
The owner of tanoor was recognized on the cover of Top 100 magazine. You can view the full article here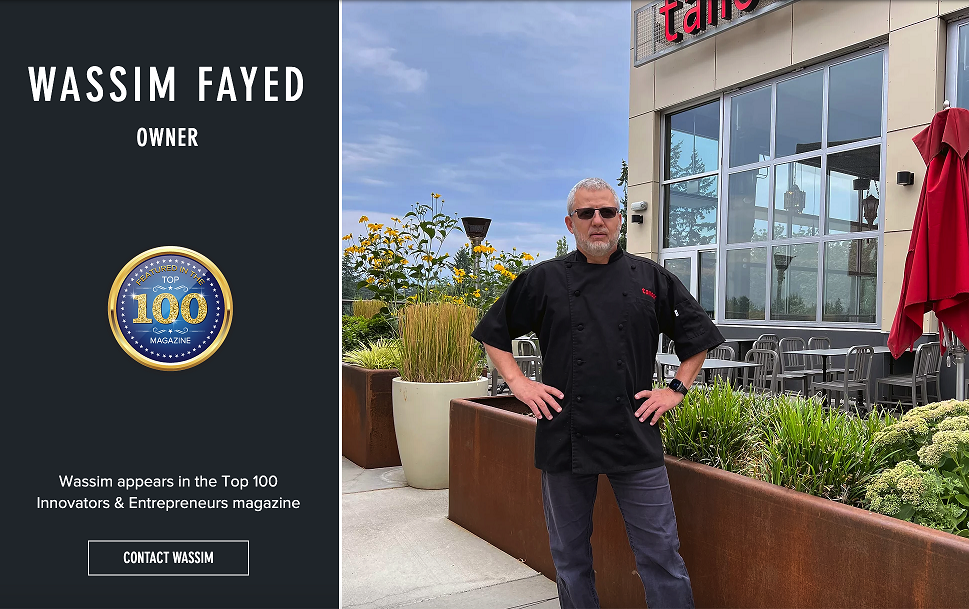 Our menu and space are designed to bring the flavors, smells, and atmosphere of Lebanon to Sammamish and the greater Seattle area. When our windows are fully open in the warm months it truly takes us back to dining in the mountains of Lebanon. By day, we have wonderful views, and by night hanging lanterns illuminate our arches creating a beautiful and romantic feel. We have worked hard to create a menu with traditional Lebanese mezze, salads, grilled items, desserts and much more. We source the best ingredients, such as extra virgin olive oil, imported olives, specialty cheeses, spices, teas, fresh produce, and of course 100% halal beef, lamb and Crescent hand Slaughtered chicken. We make our pita from scratch and bake it in our pita oven. Our Hummus, Spicy Hummus and Babaghanouge are now so popular they are sold in the Metropolitan Markets and PCC locations across the greater Seattle area.
The owner of tanoor was recognized on the cover of Top 100 magazine. You can view the full article here
Tanoor won the Sammamish Chamber of Commerce Business of the year.